HER 30 Day Redefined: her-sweat-revive

Just One Month To Re-Define Yourself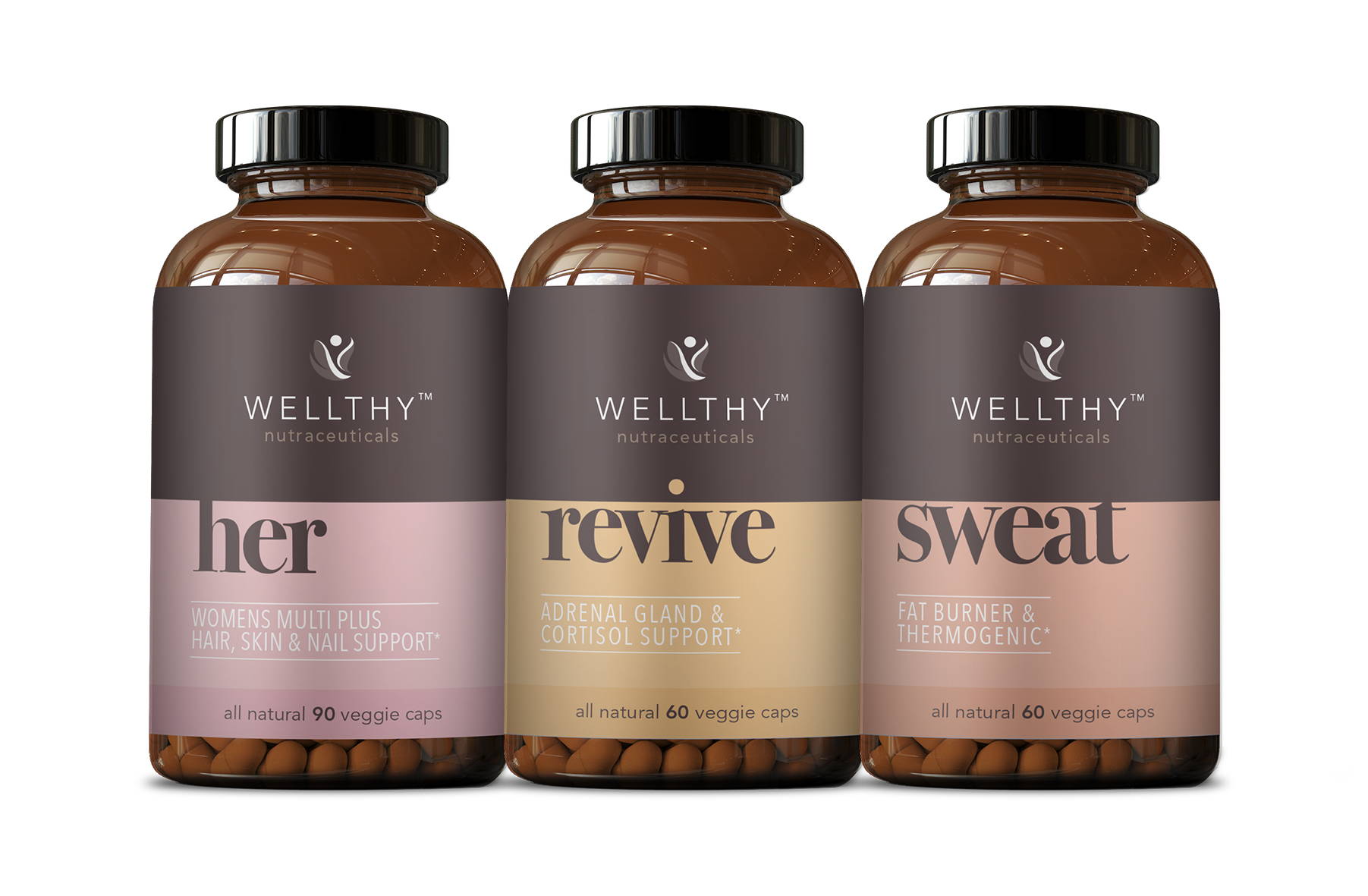 Burn Fat

Increase Metabolism

Adrenal Support

Support Immune System

Balance Mood

Beautifully Enhance Hair, Skin & Nails
Looking for a way to burn additional body fat and increase metabolism? SWEAT is an all natural high thermogenic fat burner that will have you sweating during your workouts, but won't give you the jitters.
Do you find yourself drinking more caffeine and not feeling the effects? Do you get stressed or irritated easily? There are a number of signs like these that are symptoms of adrenal fatigue. REVIVE is an all natural adrenal support blend that will help reset your adrenal glands and regulate cortisol levels. The adrenal support will help increase your sensitivity to caffeine and regulate stress levels more effectively.
How good is your diet? Are you eating enough fruits, vegetables and super foods to get all the micro nutrients you need for optimal health and immune system support? Taking Wellthy HER will fill in the gaps of the micro nutrients you are missing in your diet and will help boost your overall health with the addition of hair, skin and nail support. Her is a complete women's multi vitamin and full cosmetic beauty product all in one.
The Complete Wellthy Redefining Stack contains the highest quality all natural micro nutrients to deliver concentrated minerals, amino and extracts to supplement your diet to get your to your goals and maintain optimal health and wellness.



Please see each individual product for suggested use.
Customer Reviews
02/26/2019
Alisha Z.
United States
Love it!
The first few days when I had trouble sleeping were a little difficult, but they only lasted 2-3 nights. Since then, I've had more energy than I know what to do with. I used to wake up sleepy and trying to figure out when I could get home to take a nap before picking up the kids. Now, no desire. I have plenary of energy to get me through the day!
11/06/2018
Lacey Reynolds
Must have
I have been taking these 3 supplements daily for 2 months now and I am hooked. The sweat gives me the extra boost I need for a workout or for even jump starting my day. The her multi has done wonders for my skin and internal health. Then to top it all off the revive gives me a nice even balanced head throughout the whole day! I am absolutely obsessed and would highly recommend to everyone
30 Day Redifine Is Everything
Ive been busting my *** at the gym so I can look hot for Halloween and wanted more results so Dan sent me his Wellthy line. And now I am obsessed with the Sweat Fat Burner/thermogenic!! If you haven't tried it start with the Her 30 Day Redefine Kit which includes the Sweat and you will love it.