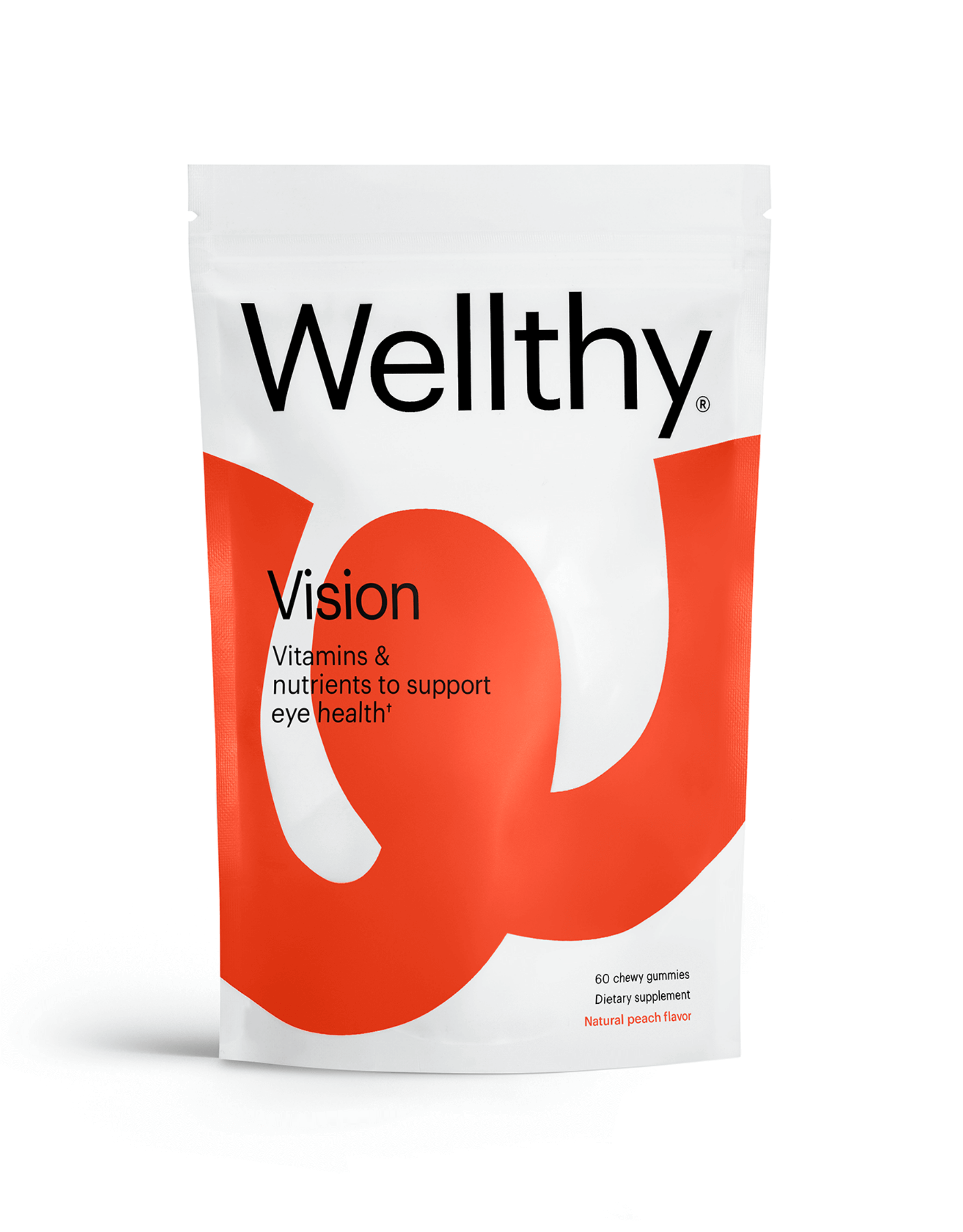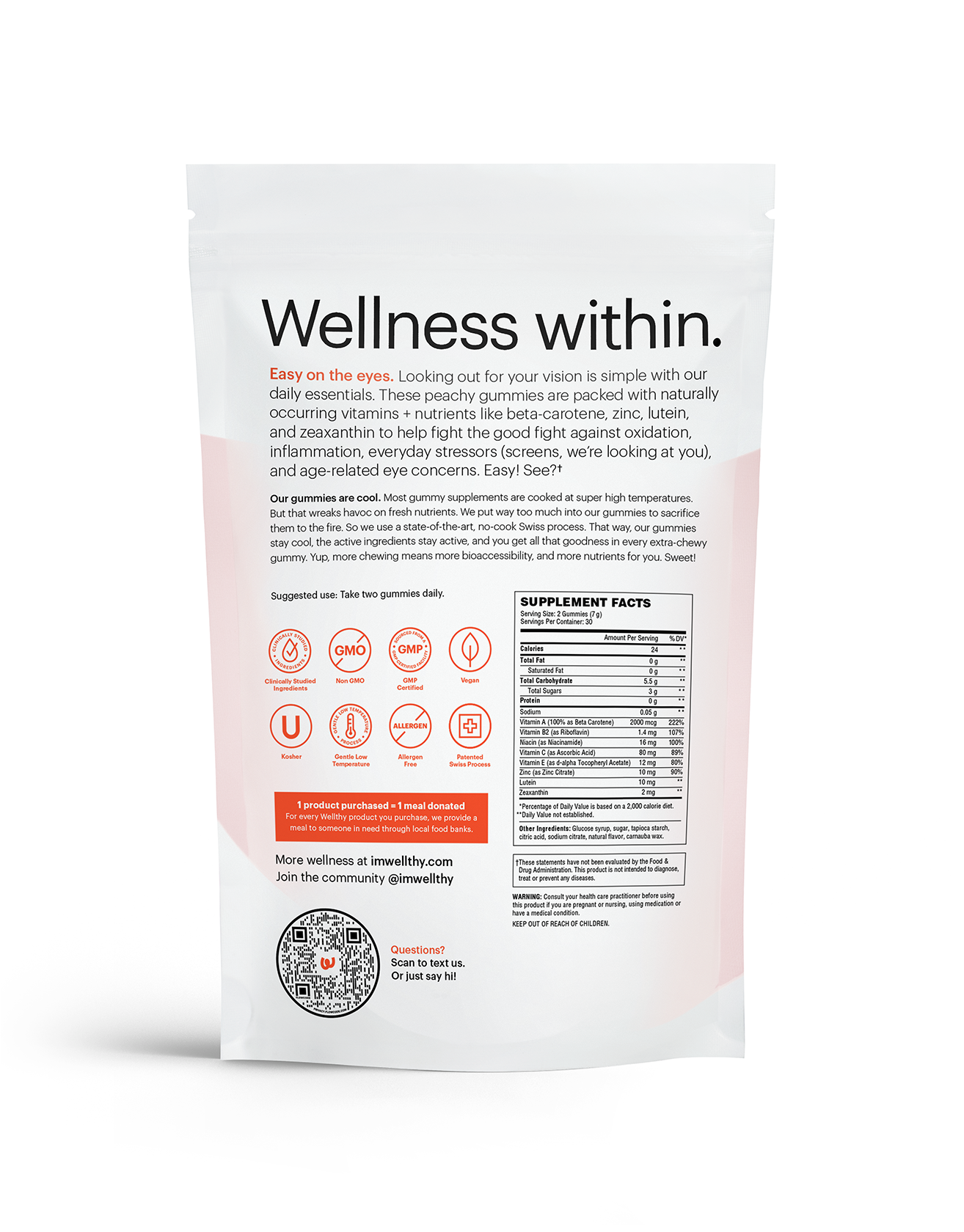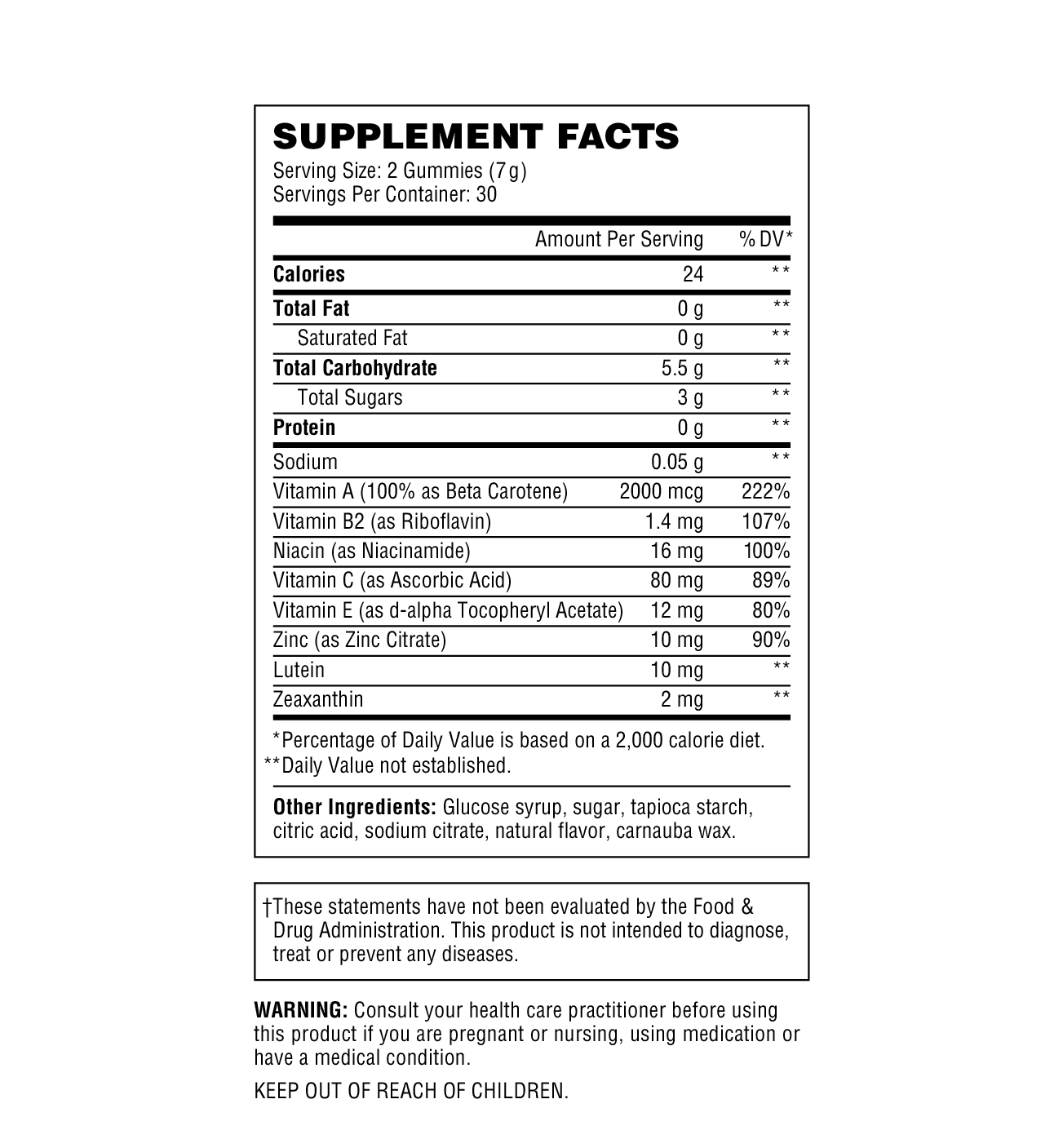 Vision
Vitamins & nutrients to support eye health†
Vision eye health gummies are packed with naturally occurring vitamins + nutrients like beta-carotene, zinc, lutein, and zeaxanthin to help fight the good fight against oxidation, inflammation, everyday stressors (screens, we're looking at you), and age-related eye concerns.
60 chewy gummies Natural peach flavor
Look out for your vision. Vitamins & nutrients to support eye health†
Key ingredients
Wellthy essentials are all natural, and we are 100% transparent about the origin of every ingredient we use in our products. See our supplement facts for a full breakdown.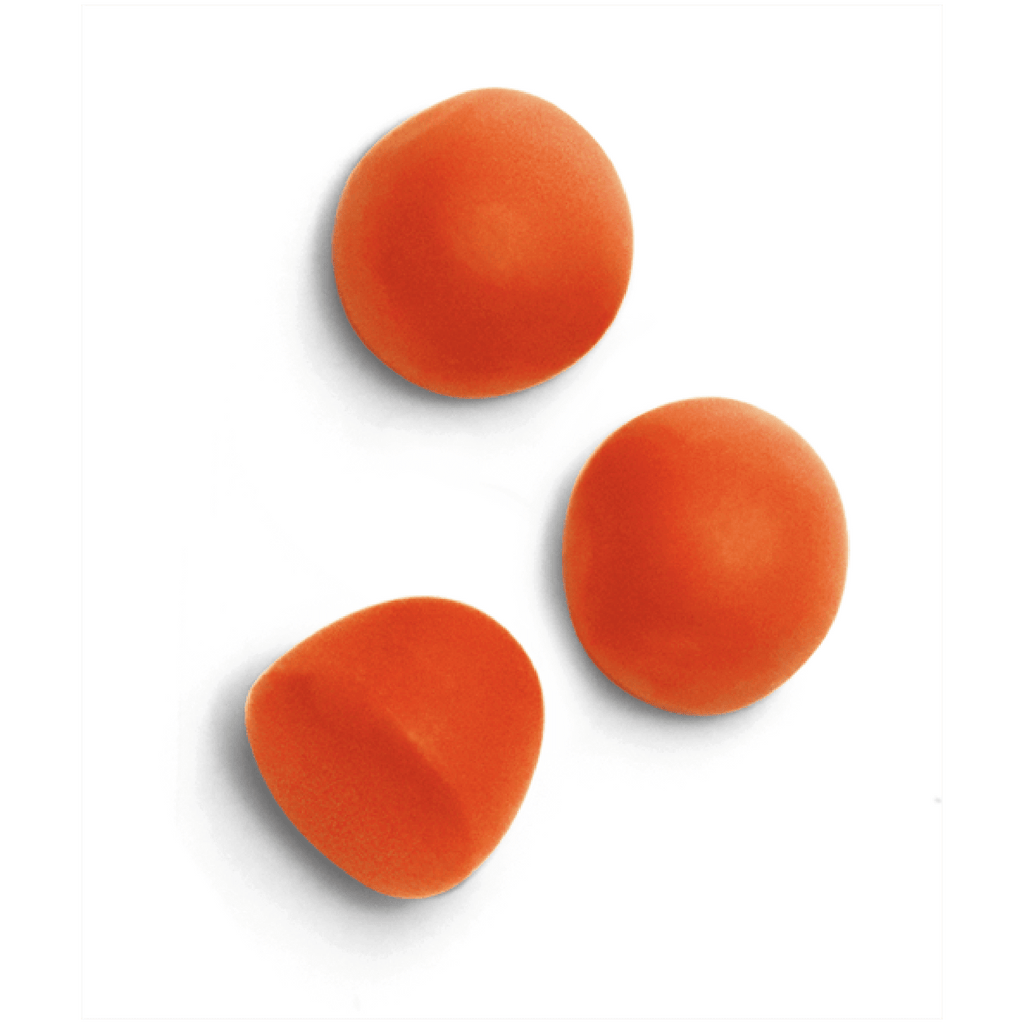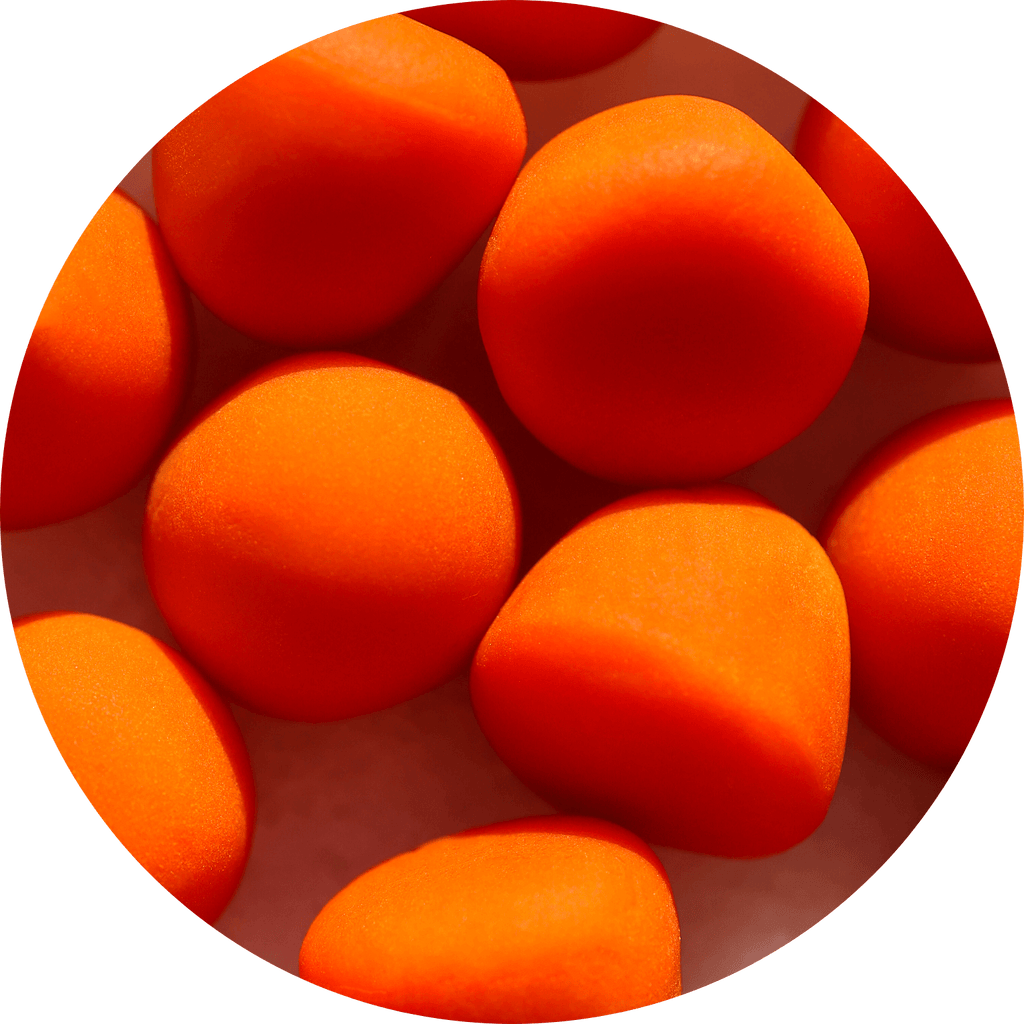 Our process
Our gummies are cool.
Most gummy supplements are cooked at high temperatures. But that wreaks havoc on nutrients. We put way too much into our gummies to sacrifice them to the fire. So we use a patented state-of-the-art, no-cook Swiss process. That way, our gummies stay cool, the active ingredients stay active, and you get all that fresh goodness in every extra-chewy gummy. More chewing means more bioaccessibility, and more nutrients for you. Your daily dose of vitamins + minerals for overall health includes zinc, biotin, selenium, iodine, and niacin for healthier hair, skin, and nails.
Clinically Studied Ingredients
Hear from our customers
Reviews
Vision gummies have an overall rating of out of 5 stars from 1 reviews.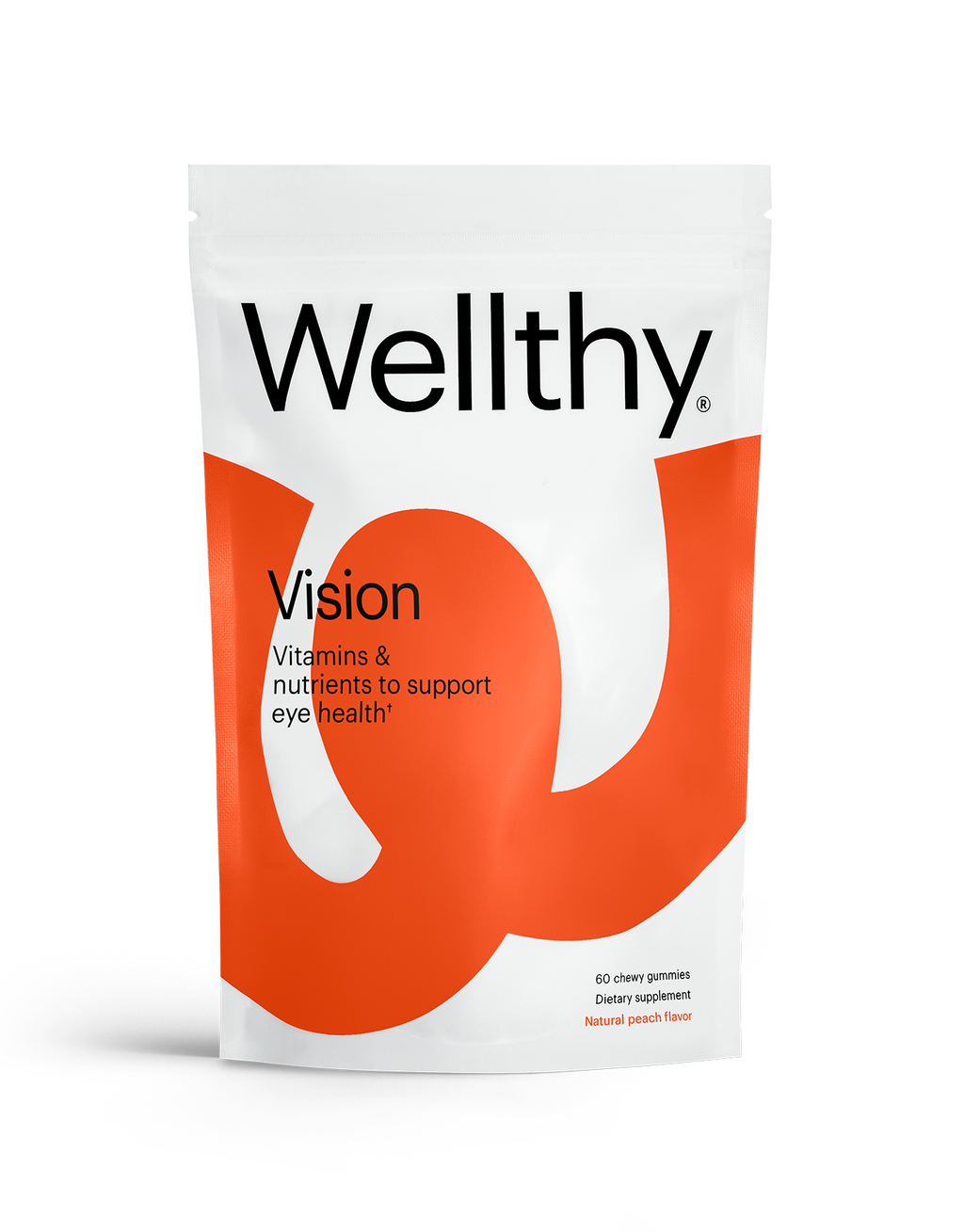 Customer Reviews
06/18/2019
Jenn P.
United States
Love this product
I have thyroid issues and since I started this vitamin I have more energy and feel normal for the first time in a long time!
06/14/2019
Nannette F.
United States
Her multivitamin
I love these vitamins. Amazing for hair and nails also!!!!
05/08/2019
Crystal S.
United States
Best Women's Vitamins I've ever tried!
I've been taking Wellthy Her Vitamins for a few months now... and these are the best vitamins I've ever used! A lot of other supplements have some variation of dairy in them, and those make me nauseous and break me out so bad. But not these! They are vegan and I love that they don't give you that weird aftertaste if you burp. The hair, skin and nail support has been AMAZING for me too! I personally had several inches of growth in a few months. I love them so much I subscribed to get them every 4 weeks. I highly recommend these especially if you have a dairy sensitivity like I do.
04/09/2019
Jenn P.
United States
Love her!
Great vitamin! Will continue to purchase
02/22/2019
Nannette F.
United States
love these products
love love love!!!!
When should I take Vision gummies?
You can enjoy Wellthy Vision at any time of day, and especially when your eyes are feeling the effects of too much screen time or other close focus activities. You can even take vision in the morning, evening or when you just feel like a little sweet with some added benefits.
Can I take Vision with other Wellthy essentials?
Yes! We recommend pairing Vision with our multivitamin, and you'll find it also pairs well with any of our other products, so you can choose what you want to take, based on your personal nutrition goals.
What results can I expect with Vision gummies?
Our newly reformulated Vision gummies provide the nutrients you need to support overall eye health. Despite our incredible reliance on our vision, we typically do very little to care for our eyes, or we begin to supplement once an issue arises. The nutrients in Vision work to provide support for your eye and macular health, and combat the daily strain of screens, blue light, and age-related stressors.
What makes Wellthy Vision different than other gummies?
Our gummies are cool. Generally, gummy vitamins are produced by candy manufacturers. And sure, we like candy, but the manufacturing process doesn't translate well to nutritional products. The industry standard for producing vitamins in gummy form is the same process used in manufacturing high-sugar candy treats. Specifically, the process requires the application of extremely high heat that can denature important nutrients. Our Daily gummies are the only gummy multivitamin to utilize a patented no-cook Swiss process that ensures the bioavailability of all the nutrients we include in each gummy. This also means our gummies are chewier, so you get to enjoy them longer, and further increase the digestibility.
What makes Wellthy different?
We're big believers in nutrition, first and foremost. Whether your goals are health- or beauty-related, we can help you realize them. There's no magic here—Wellthy essentials are based on real science—but they do work wonders. We research and source each of our ingredients for efficacy, purity, and sustainability, and we're transparent about everything that goes into every one of our formulas. Lastly, we work with nutraceutical-compounding scientists and pharmacists to ensure that we optimize every product. A few lifestyle changes and some Wellthy in your life, and we think you'll find a happier, healthier you.
Where is Wellthy manufactured?
All Wellthy products are manufactured in our Southern California facility that is both FDA-registered and GMP-certified (Good Manufacturing Practices).
Do all-natural supplements matter?
Yes, completely. We only use the finest quality, natural nutrients with the highest bioavailability to make sure you get the most out of our products. There is nothing artificial, there are no fillers, and we don't compromise. Everything is real—from the individual nutrients, minerals and aminos we use to our veggie capsules.
Are all your products vegan?
With the exception of Rebuild and our Single Origin collagen products—which rely uniquely on this non-vegan ingredient—every ingredient we use is vegan-friendly. Regarding our collagen: We specifically source our bovine collagen from a single supplier in South America. The collagen is certified to be free of hormones and antibiotics, and it comes exclusively from grass-fed, pasture-raised cows. Unlike other collagens on the market, ours comes from a single source and is derived using only a hot water extraction process. This ensures that the collagen and delicate amino acid building blocks maintain bioavailability. It also yields a collagen product that is odorless, tasteless, and easy to mix—especially with hot liquids. Our final product is almost undetectable when mixed with any beverage. For Rebuild, which contains hydrolyzed protein with collagen, we made this decision after a lot of thought. Our customers love that our protein powder is quick dissolving, never gritty and easily mixes into a beverage. The formula is light but nutrient-dense and using collagen helps us keep it that way.